Fire Extinguishing Solution (FlameX Fire Protection)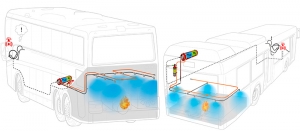 Flamex flows easily into areas where flammable liquids can accumulate. It cuts off oxygen while covering the fuel and helping prevent re-ignition.
It not only provides rapid suppression and extinguishment of the fire, but also provides rapid cooling of overheated surfaces.
It is ensured that large fires are extinguished with minimum amounts. It is ideal for extinguishing systems used in bus and heavy construction machinery engines. Vehicle Fire Extinguishing and Fire Detection Systems are used primarily in the mining sector, then in the construction, agriculture, forestry and commercial vehicle sectors.
Fire Fighting Solution Flamex
Loss of time, work, market due to any fire in these sectors causes great financial losses. Thanks to Fire Extinguishing Solution (Flamex), construction machines (graders, excavators, buckets, dozers, etc.) with long delivery times and expensive costs are safely protected.