FATSA Chemistry has been in designing, developing and manufacturing firefighting foams that have been meeting ever-changing and demanding industry standards.
Based Istanbul since 1978 and supplies wide range of C6 fluorinated and fluorine-free firefighting foam concentrates. FATSA has customer spread over a wide range of sectors including oil and petrochemical companies, international airports, military bases, power stations, marine ports, vessels and fire departments.
We operate from a position of integrity in all that we do and care about our product performance, our commitments, customer relationships and company's reputation. We operate from a position of integrity and care about our product quality, our commitments, customer relationships and company's reputation. We have complete control while the manufacturing of each product and ensure its quality and reliability.
Fatsa Chemistry manufacturer quality and performance firefighting foam that meets industry standards. Products are sent to all over the world from production facility.
Fatsa Chemical Industry and Trade Limited Company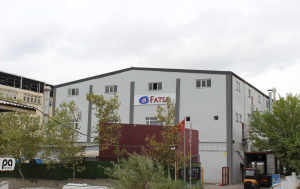 CUSTOMER RELATIONSHIP
The company, composed of a team of foam expert and passionate people, is focused on customer satisfaction and immediate service. FATSA prioritize customer deadlines, ensure its service reliability and respect health, safety, ethical and environmental rules.
The company is ISO 9001:2015, ISO 14001:2015 and Zero Waste certified.
PRODUCTION PLANT
Our modern production facility meets a daily production volume of 100,000 liters.
Continuous stock availability provides emergency foam delivery possibilities.
In the protein foam production section, there is a high-performance, technological filtration system that ensures the removal of all sediments.
Zero waste certification, as part of our commitment an efficient proprietary scrubber system is used to remove and neutralize all harmful gases and pollutants.
We are committed to an environmentally friendly production process with the separation and recycling of each waste at its source.
LOCATION
Our production facility located in Istanbul, the junction point of Europe and Asia, provides easy access to countries in the Middle East and Europe by road, sea and air routes.
RESEARCH AND DEVELOPMENT
Fatsa Kimya closely monitors the quality of the international market by constantly investing in research and development.
The R&D team, consisting of experts in fire extinguishing foam, meticulously controls all produced products until the shipment stage. The innovative request of our customers, fire department and research institute can be implemented as soon as possible.
Our team continues to research new raw materials and technologies to maintain steady progress and develop improved products.
Our Vision
We attach importance to the environment, to be the first choice of the consumer with the service and product quality in the sector in which we operate, to ensure continuity.
Our Mission
To produce products and services that will create value beyond customer expectations in the fire extinguishing chemicals sector, and to be an exemplary and pioneering company in the sector.  
Our Values
Customer Focus
Honesty and Transparency
Innovation
Productivity
Customer Happiness
Since 1978, we have been continuing our work without compromising our customer satisfaction. As Fatsa Kimya, we are honored to be proud of it.
Institutional Structure
Fatsa Kimya started its operations in 1978, headquartered in Istanbul. It started to manufacture fire extinguishing foam concentrates in 1980 with Protein Foam Concentrates. Thanks to its large investments in the research and development of fire extinguishing foams, it has developed a wide product range and a strong product portfolio within the framework of national and international standards in close cooperation with end users and test institutes. Apart from the basic product portfolio, it is produced in accordance with special analysis values and certain technical specifications.